How Do Bedtime Stories Benefit Children?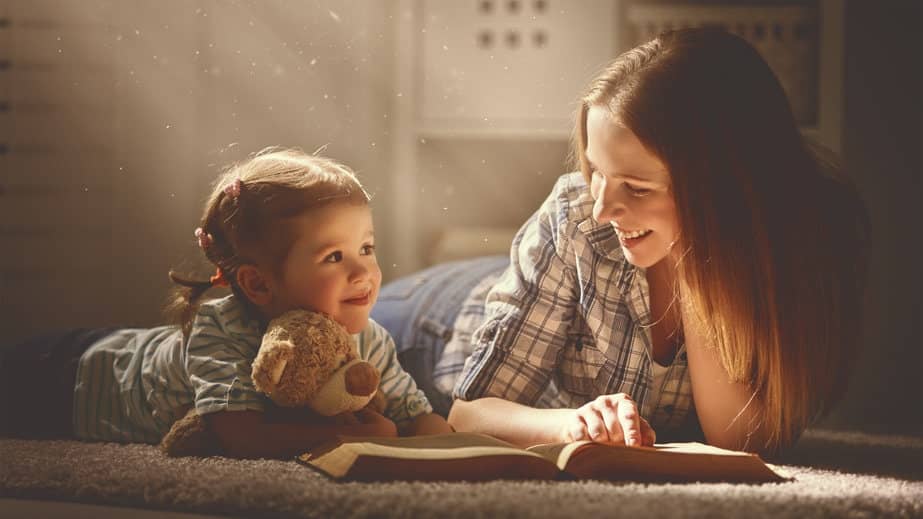 Are you wondering how bedtime stories benefit children? Reading bedtime stories is more than just a relaxing ritual for little kids and their parents. In addition to helping your child settle in and get ready for sleep, bedtime stories can also help soothe your child before bedtime. These stories provide entertainment during travels and vacations and enrich your child's reading skills. Here are 8 proven benefits of reading bedtime stories.
1. Cultivates imagination
In a world filled with digital distractions like TV, computers, and smartphones, many young kids rarely have the chance to tap into their imaginations, especially if their parents don't read to them. Carving out time to sit with your child, read a story, and look at pictures together at bedtime is a wonderful way to enrich their imaginations. When you talk about various aspects of the book, like the colors, characters, objects, and characters' emotions, children are exposed to rich language that stimulates their minds.
2. Improves language skills
There are plenty of books you and your child can read at bedtime that is fairly simple and straightforward, which makes them ideal for early readers. By reading bedtime stories on their own, children can practice their reading skills while having fun. Pictures help young children visualize the story being read to them. This helps to give them a head start when it comes to reading independently down the road.
3. Encourages bonding between parent and child
Reading bedtime stories is a great activity to incorporate into your child's bedtime routine each night, regardless of how busy your schedule may be, or even how far apart you may live from each other. Sharing stories gives you an opportunity to sit together quietly before bed each night and enjoy each other's company.
4. Improves listening skills
When children listen to bedtime stories, they have an opportunity to focus their attention without typical daytime distractions. By focusing on a book and not playing with a mobile device, tablet, or toy, children have an opportunity to improve their listening skills, which is important as they grow up.
5. Soothes fears of dark rooms
For young children who are afraid of the dark, bedtime stories can even help to soothe those anxieties, as they can listen to a story in a familiar room lit by soft light. Listening to bedtime stories can also ease fears caused by separation anxiety when kids leave their parents for school or daycare each morning.
6. Enriches vocabulary
Reading bedtime stories together is also an opportunity for you to introduce new vocabulary to your child. You can provide definitions of unfamiliar words or phrases and even add your own commentary. This can help improve children's vocabulary as they grow up, making them more likely to excel in school and beyond.
7. Provides bedtime entertainment during a separation or on trips
Many kids experience bedtime separation anxiety when a parent goes on a business trip or is away from home for an extended period of time. Bedtime stories provide kids with reading material that will keep their attention until it's bedtime. If you're away from your little one at bedtime, you can even help to set the mood by telling bedtime stories over the phone.
8. Enhances bedtime routine
Finally, bedtime stories are a wonderful part of each child's regular bedtime routine. They help kids get ready to sleep with more ease. A typical bedtime routine should include brushing teeth, putting on pajamas, getting the bed ready, and reading bedtime stories. The more consistent your routine, the easier it is for kids to settle down at bedtime.
From cultivating their imagination to improving their reading skills, the benefits of reading bedtime stories to children are countless. Whether you're a family bedtime story-telling newbie or an experienced storyteller, reading bedtime stories is an activity that should be incorporated into your family's daily routine!
At Children's Corner, we believe it is our responsibility to protect each child's health, safety, and well-being and provide a nurturing and loving environment in which we guide each child's growth and development. Learn more about us by visiting our website!